Hello, detectives!
This is Brittany, Localization Producer at XSEED and lead editor for London Detective Mysteria. I've talked about the research I've done in my previous blogs, and while I did go into some specifics, a topic I didn't cover in detail was how each individual character speaks. Just because it's all old and British-y does not mean everyone speaks in the same manner. Far from it.



I've chosen to divide this subject into three blogs: the first covering Emily Whiteley, Herlock Holmes, and William H. Watson; the second covering Jack the Ripper and Bradley; and the third covering Jean Lupin, Kenichirou Akechi, and Seiji Kobayashi. I'll also cover some general thoughts and facts about them while I'm at it!
Emily Whiteley
The protagonist of Mysteria. We don't get to talk about otome heroines often enough, so I'm pleased to have someone like Emily. First thing's first: yes, you can change her first name, and the localization has adjusted it to account for up to 12 characters. I always preferred to keep her as Emily when playing, though, because unlike many otome heroines, she is her own character and is not meant to be an insert for the player.



Emily Whiteley is a noblewoman whose finances are currently being handled by her guardian and butler, Pendleton, until she comes of age. She is the last remaining member of her prestigious family line, and so she takes great pride and care in her title and future responsibilities. She's strong-willed, speaks from the heart, and isn't afraid to get her hands dirty if it means discovering the truth. This is meant both figuratively and literally, as you will soon discover.



She, like many other characters in the story, is a young detective endorsed by Queen Victoria, and she takes a more intuition-based approach to her investigations over tried-and-true methods. This makes her appear a bit clueless on the surface, but when you couple her natural powers of observation with a high-bred education, good things happen.



All of this is reflected in how I approached her character; she doesn't use overly simple, casual language, but she isn't so formal that there's a total disconnect between her and commoners. There's a natural lean towards polite language, and with the influence of her schoolmates she loosens up a bit while overall staying true to her upbringing. This change is slight on my part, so it's my hope that you won't even notice the change over the course of the story.



Emily is open to having her worldview challenged, though it isn't for the sake of a gameplay mechanic that requires the heroine be molded to suit each of the personalities from her buffet of love interests. This is a girl who takes pride in her status as nobility not because she believes she is above the common people, but rather because she's been privileged with the opportunities to help those who don't possess the same natural advantages in life. What she doesn't know, she is open to learn, even if it hurts her and puts her own status in a negative light.



I love that she isn't an endless well of virtue and perfection, which can also happen to heroines who must excuse various degrees of behavior for the sake of romance. She's a sixteen-year-old girl with an impressionable mind, but that mind is her own. She experiences positive changes as well as dark changes, can be happy or sad, or even feel hatred. She is such an active, colorful character who is fortunate enough to have been written by a developer that understands a heroine in otome is more than the boy she comes to love.



I adore how pro-active a character she is. Yes, she will sometimes be in need of rescue as leads often are, but she can also rescue herself just fine, as well as step up and rescue others. The times she shows weakness aren't indicative of her core role to give her love interests room to shine, but simply part of circumstances as they play out. That, and the times when she needs protecting, I feel are justified—she's an heiress, and to her, being an heiress is more than just being old money, but protecting her legacy and the staff who live by the grace of her fortune.



Much of the game's narration is told from her perspective, which is another thing that makes working on her unique to me. A lot of her personality isn't just expressed through in-game dialogue, but by what she feels and observes internally. This is where the text is most liberal from Japanese to English, since it gave me more of a chance to expand upon the Victorian feel than the voiced dialogue. But I stayed loyal to her personality throughout, of course!



This was also the first time I was lead on a project with a heroine and not a hero! So many years, and I finally got to dive into the mind of a girl. It's weirdly exciting to finally have that. It made it easier to dive into her thought processes, so I hope players can see and appreciate that as they read Emily's story.
Herlock Holmes
Let's get the obvious out of the way: Herlock is not a misspelling. It's also not entirely made up. "Herlock" came from the father of Gentleman Burglar Arsène Lupin and all-around troll, Maurice Leblanc. Being that Lupin is considered an infamous thief in his novels, it likely became hard to ignore such a famous fictional detective. Except, you know, most would still ignore him because of copyright laws and stuff. In the face of such laws, Leblanc (or his English localizer, at any rate) did as any sensible writer would have done and used the character anyway, making up not-at-all obvious names like Holmlock Shears and Herlock Sholmes.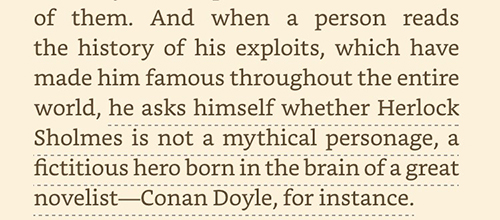 |Maurice Leblanc did not caaaaaare.



Sherlock Holmes is a character in Mysteria, and Herlock happens to be his son. Herlock Sholmes + Sherlock Holmes = Herlock Holmes. There you go.



Holmes has been one of the easiest characters to write, thankfully. He doesn't require anything special, although I've gotten into the habit of calling him Wikipedia-kun because he likes to own people with big-ass words and extensive knowledge. When reading many of the Sherlock Holmes novels, I didn't get the impression that its beloved protagonist was as much of a dick as his modern interpretations tend to be. He's very eccentric and kind of a terrible friend, to be sure, but the only dick he happens to be is of the detective variety. (Eh? Ehhhh?)



Because of this, outside of how much the original character rambled and rattled off observations, he wasn't as huge of an influence on Mysteria's Holmes as I expected. The boy detective definitely leans more towards the modern interpretation. Herlock Holmes is blunt, logical, and practical—the kind of guy who would say he's being "brutally honest" when he's really just being rude. When he's kind, it's normally in the form of a backhanded compliment.



Even though he's not my favorite guy in the bunch and the Sherlock Holmes novels didn't provide a huge amount of inspiration for his character, I was still happy to read the novels anyway. I didn't find them too enjoyable or interesting, but they're all short enough, and the little nods throughout Mysteria made reading them worth it in the long run.
William H. Watson
Watson is one of two routes I did not take lead on as editor. When I started the game, I found the project so difficult that my usual speed for editing slowed down significantly—there were days when I couldn't even manage 50 lines of dialogue. I'm a possessive person when it comes to my projects and dislike asking for help, but I greatly trust the editing of Nick Colucci (Trails of Cold Steel, Zwei: The Ilvard Insurrection, STORY OF SEASONS). For one, Nick is well studied in literature, and for two, his general writing style when doing prose leans towards that fantasy-Victorian feel I wanted by default. I asked if he wanted to help me with Watson and Akechi's routes, and he was totally down. I did my best to read through and add British words and stuff, but I tell you, Nick's editing helped massively. Thanks for writing words good, Nick!



My style for Watson in the earlier chapters was more informal, like a commoner who wears his heart on his sleeve. In a weird way, his personality reminded me of a big, dumb dog, so that's where I went. Nice person, enthusiastic, not the brightest, but very protective of those dear to him. He swears, but only lightly, and while I would often read up on the etymology of words to avoid those that didn't exist during that era or weren't in common use, I wasn't as strict with him.



In Mysteria, he plays an excellent foil to Holmes, but even though the Sherlock Holmes novels are told from Watson's perspective, I didn't find them very helpful in getting into Watson's speaking style. He matched the parody version of his character in Maurice Leblanc's Arsène Lupin vs. Herlock Sholmes, Wilson, much better.



Even though he sounds easier, it took some time before I felt confident in his character. I had to do a couple revisions—was he too old-sounding here? Is this too modern? He felt like a character I was writing differently depending on the route I was editing at the time.




That's all for today, folks! Stay tuned for the next blog!